W500 All In One Web Guiding Machine
Support three working methods of line tracking, edge tracking, centering tracking, etc
Support photoelectric sensor, ultrasonic sensor, CCD sensor
Automatic detection of sensor parameters, no need to calibrate the sensor in most environments
Automatic stroke measurement without mechanical limit switch
Ultra-high-speed response with 500 microseconds (0.5 milliseconds)
The DC servo motor drives the ball screw
Support Simplified Chinese/Traditional Chinese/English Three Languages
The humanized operation, quick and easy
Share to
Coil materials refer to long-sized continuous materials such as paper, film, sheet, non-woven fabric, metal foil, silk, thread, etc. In the process of uncoiling, technological processing, winding, etc, deviation of the coil materials may occur, due to the deviation of the coil itself or the processing machine. The Arise W500 all-in-one web guiding system machine provides a solution to reduce the occurrence of such situations. The system always tracks the position of the coil material during production and makes corrections in real-time.

Working Principle Of W500 All-in-one Web Guiding System
The web guiding system is a closed-loop controller. First, the sensor detects the edge or line of the coil, and the system automatically reads the deviation of the actual position and setting the position of the coil and converts the offset into an electrical signal. They send the signal to the controller. After that the signal is calibrated by the controller, it is outputted to the linear driver. The linear driver drives the deviation correction according to the magnitude of the signal. Then the guide mechanism adjusts the coil to the set position. The drive signal of the current drive is only proportional to the deviation of the coil, which makes it possible to provide precise control for various coils.

Advantages Of W500 All-in-one Web Guiding System
1. Track the edge of the substrate, correct the unevenness of the substrate when winding.
2. Track the edge of the substrate to keep the coating material equidistant from the edge.
3. According to roll speeds of different materials, the correction speed can be adjusted to keep balance with it
Main Applications Of W500 All-in-one Web Guiding System
The W500 web guide has been widely used in the applications of various industries and it is essential in industries such as packaging, printing, labels, building materials, paper pulp, metal processing, non-woven fabrics, corrugated paper processing, etc.
Tire industry: molding machine, carcass cord, laminating drum common template correction, inner liner pre-correction, film blowing machine, industrial belt laminating machine.
Packaging, printing and paper industries: satellite web printing machine, bump plate printing press machine, inspection machine, slitting rewinder, coating machine, etc.
Battery industry: lithium battery coating machine, lithium battery slitting machine, lithium battery rolling die machine, battery stacking machine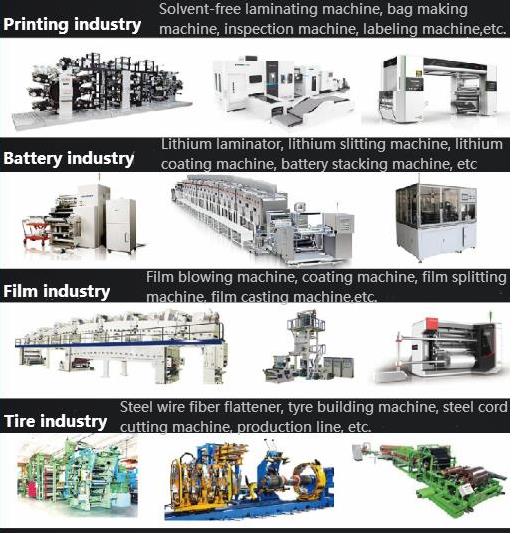 Professional Web Guide System Manufacturer – Arise
Arise is an audited, leading web guiding system manufacturer in China with a professional R & D team. Using the high precision web guiding equipment supplied by Arise can ensure continuous and accurate edge position control of coil materials in various production processes.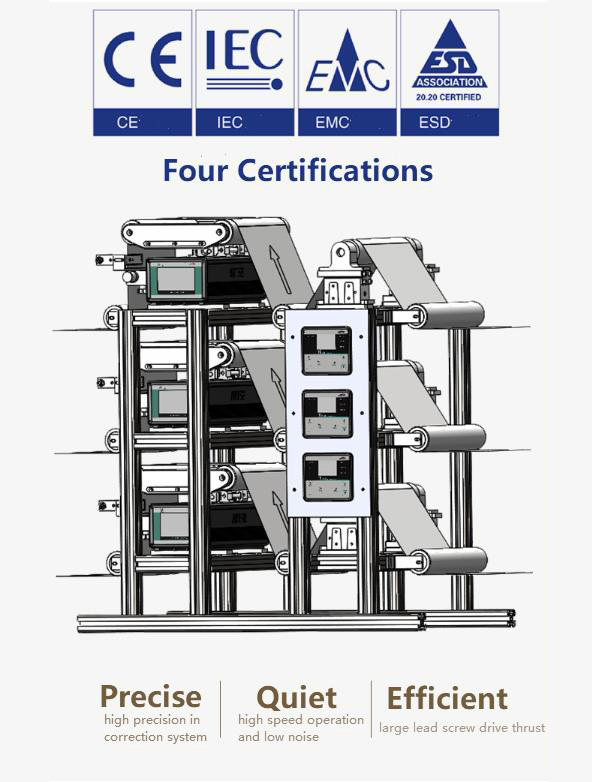 Certificate